Pica pica
---
18 February 2020 : Pica #067
Kentucky Fried Crocs.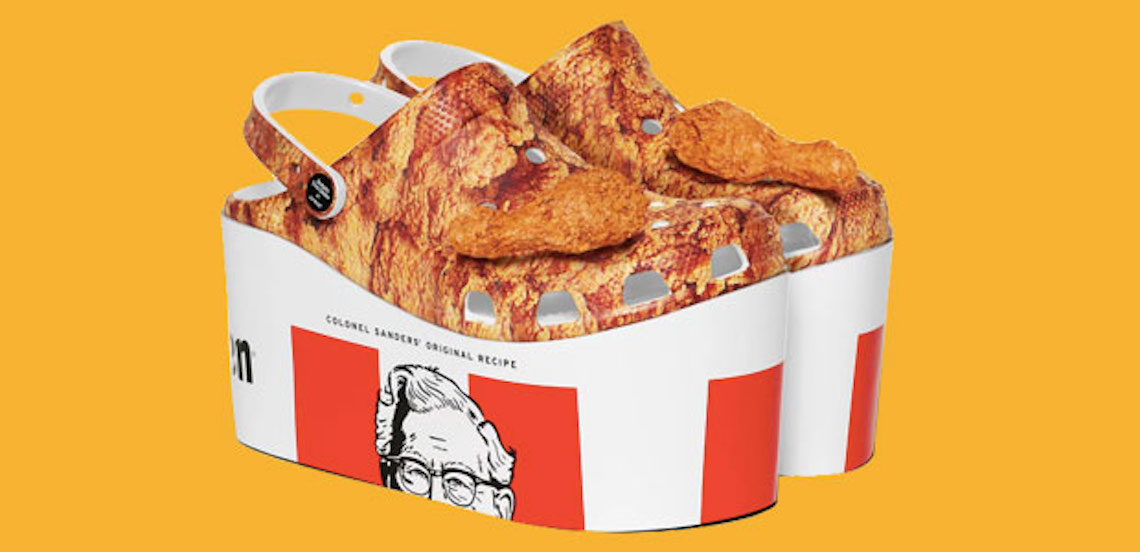 Brand collaborations are only beneficial for brands that are clearly defined.
The 'Kentucky Fried Chicken X Crocs' clogs are a real article (the two drumsticks are removable, which is a good thing because, although made of plastic, they smell of fried chicken). This item of footwear will go on sale (via the Crocs website, a couple of months from now) for $59.99. This is just one, recent, example of a brand collaboration, but there are many more. Brand collaborations have been around since forever. Often they are just a merchandising exercise, but the best examples live in an intersection of interest of consumers - a place where the affinity of the brands is defined by the profile of their consumers, not by the brands themselves. The shoes mentioned previously make sense in the intersection of a Venn diagram of people who really love KFC and also Crocs, both passions make possible these plastic-fantastic, finger-lickin' good, clogs. For a brand collaboration to work, the brands need to share some personality traits and values (a Kentucky Fried Birkenstock would have been unthinkable).
Brands are signifiers, like words. Consumers use brands, consciously and unconsciously, to convey meaning. Using multiple brands they create complex 'sentences' that express who they are.
Consider, for example, these two brand sentences:

Range Rover, Barbour, Ralph Lauren, Ferragamo, Patek Philippe.
Range Rover, Stussy, Moschino, Nike, Panerai.
With the names of just five brands, one of which is common to both lists, I have evoked very different personalities that you can, probably, instantly recognise.
People do this and brands do it too (some people are brands but not all brands are people). Supreme are arguably the masters of brand collaboration - it is a significant part of their identity - but Nike is especially prolific: Michael Jordan, Pharrell Williams, Playstation, Virgil Abloh, Cristiano Ronaldo, Back to the Future, Kanye West, Sponge Bob, Tiger Woods and FC Barcelona to name just a few of the brands they have associated with. It's a significant part of their business, I don't have complete data but Nike-Jordan products alone accounted for over 10% of global Nike sales in 2019.
Currently, most brand collaborations involve the clothing sector. It works both ways, for example, you can buy Chupa Chups clothing by Fila and a Dolce & Gabbana coffee machine by Smeg. As 3D printing and other technologies progress and allow greater freedom of personalisation I think the trend will extend to other product categories and even services. The brands that will profit from this will be those with a clear image and purpose. Because like words, brands are useful only when their meaning is shared within a cultural group.
Next > "The Red Zone."
< Previous "Just Another Brick in the Walmart."
M O S T
R E C E N T

Counting the forces of Collaborative Creativity.
Creativity is more than just a process for producing new ideas and Collaborative Creativity is a methodology that recognises creativities many other effects and advantages.
Read this >

The importance of sharing.
I am now the author of a soon to be published business book, because sharing what we know and believe is important.
Read this >

The ambitions of Creative Commitment.
I witnessed the live presentation of the Creative Effectiveness ladder and oh, what a beautifully quixotic thing it is.
Read this >

Wait, there's more...
Pica index >