Pica pica
---
23 August 2019 : Pica #059
#InspireTheEnd.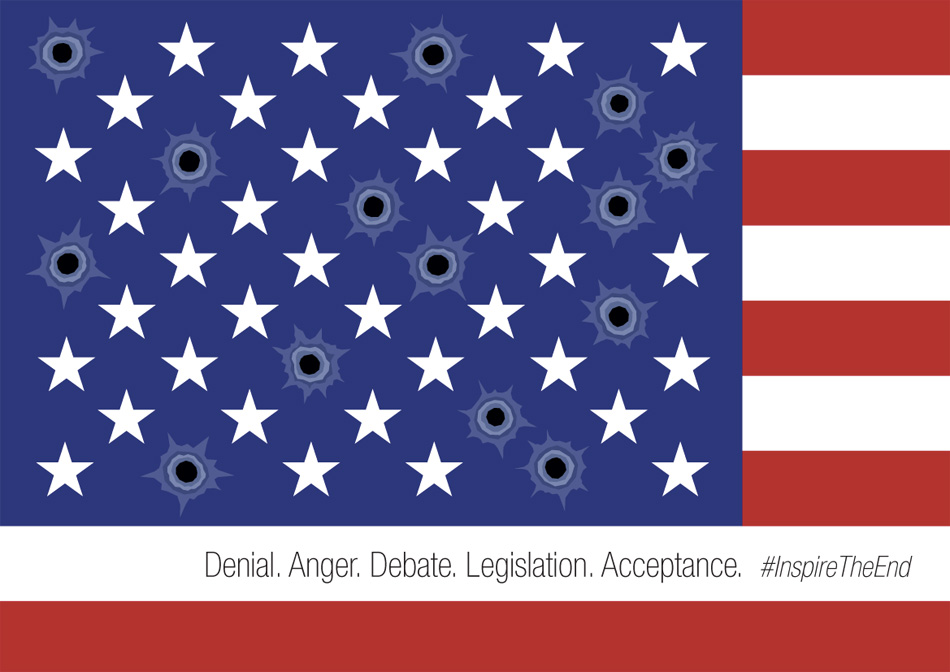 A failed attempt to end gun violence and an appeal to arms producers and distributors to erect a national cenotaph.
On August 6, 2019, MM&M ("Medical Marketing & Media, is the media brand of record for pharmaceutical marketing and commercialization, delivering the most balanced and relevant coverage of its subject matter.") put out a call for creatives to use their talents to help fight gun violence. 
The previous weekend two mass shootings had left 31 dead and many more seriously wounded. The two events brought the total of mass shootings in 2019, in America to 17 with a total of 102 victims killed. In the USA, over the last 37 years, 2,340 people have been shot in 114 instances of mass shootings.
The above image is the concept I created and submitted to MM&M. I can't convince myself that it will have any meaningful impact yet I hope it will because I consider these act of gun violence a terrible, tragic failure of civilised society. My concept highlights a problem and suggests the phases through which we must pass to reach a solution but it doesn't hint at a solution because I don't have one. What I have is fear that these events will continue and worsen in severity and frequency. I fear that we will become desensitised to these events. 
Currently, there is no physical national symbol of this carnage. There is no tangible emblem of society's willingness to acknowledge the problem and honour the dead. A memorial would fill that gap and become a useful focus for events, protests and news about the issue. We need a cenotaph.
The word derives from a Greek term formed of two words meaning "empty" and "tomb". The idea of an empty tomb is fitting because it would be a symbolic grave for the victims who are buried around the US. It would also be conceptually aspirational because a tomb for mass shooting victims is something that we all hope remains empty because there are no victims.
My concept lacks a practical call to action, so allow me to add one now. This is an appeal to all brands who produce and distribute firearms in America to unite in funding the creation of a Cenotaph to honour the victims of gun violence and to act as a symbol of their desire to promote gun safety.
Next > "Pharma companies deserve to be perceived as heroes, not villains."
< Previous "Corporate karma."
M O S T
R E C E N T

Counting the forces of Collaborative Creativity.
Creativity is more than just a process for producing new ideas and Collaborative Creativity is a methodology that recognises creativities many other effects and advantages.
Read this >

The importance of sharing.
I am now the author of a soon to be published business book, because sharing what we know and believe is important.
Read this >

The ambitions of Creative Commitment.
I witnessed the live presentation of the Creative Effectiveness ladder and oh, what a beautifully quixotic thing it is.
Read this >

Wait, there's more...
Pica index >