Pica pica
---
26 May 2019 : Pica #053
It was fifty years ago today.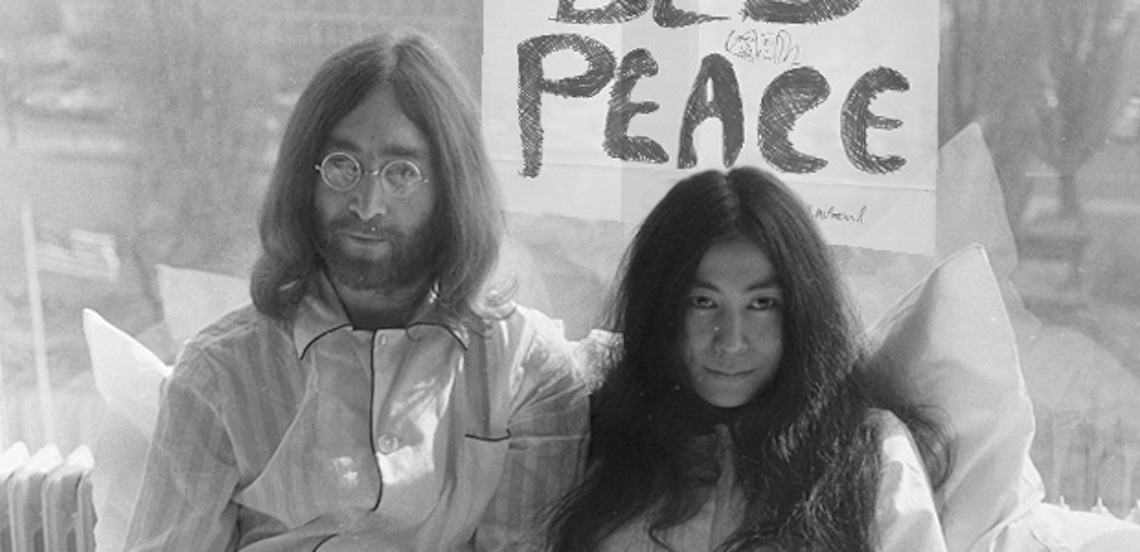 Reflections on the anniversary of one of the most momentous acts of advertising ever.
On May 26 1969, newlyweds John Lennon and Yoko Ono started their seven-day 'Bed-In for Peace' at the Queen Elizabeth Hotel in Montreal. This was their second Bed-In, following the one they staged in Amsterdam for their honeymoon. The bed-in, a twist on the sit-in, was a form of non-violent protest against war. In Lennon's own words, "We knew our honeymoon was going to be public, anyway, so we decided to use it to make a statement. We sat in bed and talked to reporters for seven days. It was hilarious. In effect, we were doing a commercial for peace on the front page of the papers instead of a commercial for war."
Fifty years ago the media landscape was very different. Print, TV, Radio and Posters were the only ways to reach a large audience with a message and the only way to appear on those media was to have a big budget or a big story. The Bed-In was a seven-day press conference - Lennon and Ono used their celebrity status and performance art experience to gain massive visibility for their cause and generated earned media worldwide worth millions of dollars. John Lennon repeatedly said about peace that they needed to, "Sell it like soap."
The Bed-In for Peace remains a significant moment in advertising history. Lennon and Ono applied social media tactics and celebrity influencer marketing ideas before they existed and they did it in a mass media context. Lennon called it the fishbowl, "You're in a fishbowl, so make use of it. It is no good trying to put a fence around it. So instead of all the cameras just being outside looking in, you've also got the cameras inside looking out. The things Yoko and I are doing are really that: projecting, bouncing back as fast as we can what happens to us from the outside. We put ourselves there in the fishbowls. And now, that we're in that position—we use it for peace. And that's the only thing to do, really. Because it's no good working for money. And there is nothing else to do but work. So working for peace is an objective". The line, "projecting, bouncing back as fast as we can what happens to us from the outside" is such a contemporary phrase - it succinctly describes social media culture.
The Bed-In was a live event, amplified through journalist's interviews, TV crews and photographers, but it was also much more. The Lennon's activity included the use of slogans, drawings and of course music. "Give Peace a Chance" (which, before becoming a song, was one of their slogans) was written and recorded in Montreal at the Bed-In for Peace. It became an anthem of the American anti-war movement. They didn't just record music, they filmed extensively, the result is an hour-long documentary 'Bed Peace' (you can watch it on YouTube) that is still worth watching. Looking at their use of any and all mediums, it's easy to imagine ('if you try') what they might have done with today's tools. But it would be wrong to get excited about how they could have amplified their message and reached people directly without journalist go-betweens. The clutter and noise generated by today's media tools make any single event less, not more, prominent in the collective consciousness. Lennon's stated aim was to reach everyone and, while not everyone was impressed, the monolithic reality of 60's mass media made it possible. Modern media has evolved to deliver a specific message to those most receptive to it.
For this reason, the Bed-In performances were pioneering and they remain unrepeatable. Virtually everyone broadcasts and virtually nobody listens for longer than it takes them to swipe up. It has been estimated that in the sixties the average American saw 500 ads a day and that today it's more like 5,000. There is too much content, fragmented into too many channels - the share of voice achieved by the Bed-In for Peace is no longer achievable. Cristiano Ronaldo currently has 150 million followers on Instagram, more than anyone else. In 1966, the benchmark John Lennon chose to compare the Beatles popularity to was Jesus.
"There is no line between private and public. No line." Lennon said, fifty years ago, referring to his own life. Today that phrase is increasingly relevant for the majority of people in developed countries. So, it is possible that he saw things from a perspective that was not typical for his peers and is more typical fifty years on. He certainly understood advertising and it's mission to generate awareness. In that respect, Bed-In for Peace is one of the greatest pieces of advertising ever. In 2012 Yoko Ono said, "In 1969, John and I were so naïve to think that doing the Bed-In would help change the world. Well, it might have. But at the time, we didn't know."
Next > "The Certified Crazy Ones."
< Previous "Confessions of an admirer."
M O S T
R E C E N T

Counting the forces of Collaborative Creativity.
Creativity is more than just a process for producing new ideas and Collaborative Creativity is a methodology that recognises creativities many other effects and advantages.
Read this >

The importance of sharing.
I am now the author of a soon to be published business book, because sharing what we know and believe is important.
Read this >

The ambitions of Creative Commitment.
I witnessed the live presentation of the Creative Effectiveness ladder and oh, what a beautifully quixotic thing it is.
Read this >

Wait, there's more...
Pica index >