Pica pica
---
20 June 2018 : Pica #031
The eye exam.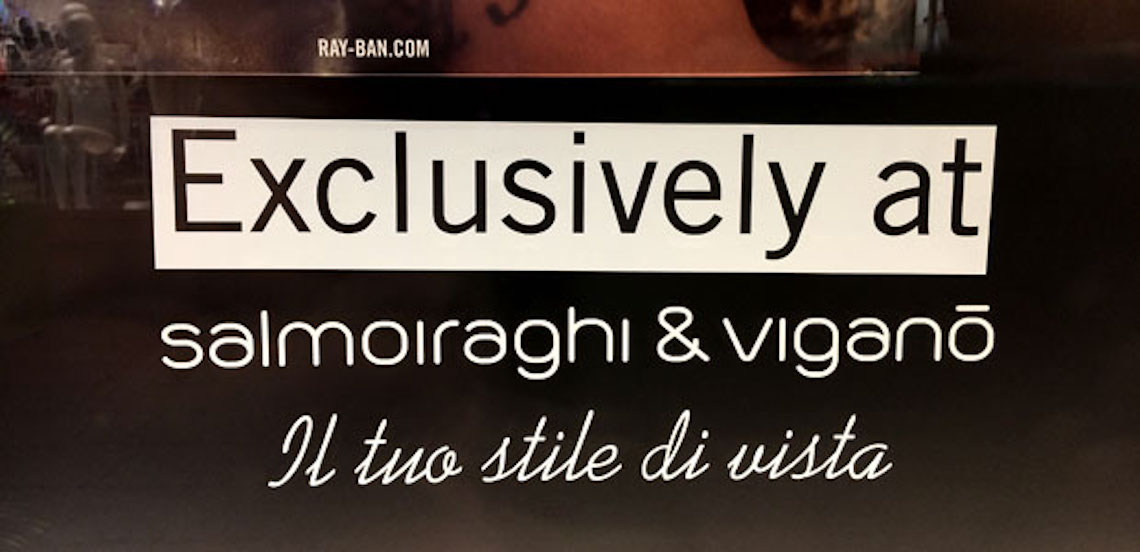 Design is not a detail and great design requires attention to detail.
The photo above is of a detail of a shop window display, a permanent piece of retail space furniture. The display is the largest and visually most important item in the window, it holds a large, interchangeable poster and three glass shelves upon which eyewear are displayed. The display is simple, minimalist, nicely made. The Ray-Ban poster is professionally produced. The eyeglasses on display are sleek, stylish, carefully crafted. The subject of my photo, the graphic design at the base of the display, is incongruous. It looks wrong, it looks cheap.
I've been wearing glasses since I was 5 years old and I became a professional graphic designer at 16, consequently I have an interest in eyewear and an eye for design. I consciously notice bad design and typography - there is more and more of it around to see. I realise the majority of people rarely consciously notice bad design but I am convinced that it registers with everyone at some level. When we are in an environment we perceive its quality with all our senses. Our mind captures details and creates an overall impression that gives us a feeling. That feeling then influences our propensity to believe the value of the proposition.
If you sell premium style, at full ticket price, you are obliged to be stylish yourself. Maybe not as stylish as the brands you are selling, but close. Salmoiraghi & Viganò is owned by Luxottica, "a market leader in the design, manufacture and distribution of fashion, luxury, sports and performance eyewear", present in 150 countries, with approximately 9,000 retail stores. In 2017, net sales were 9 billion Euro. The eyewear brands they produce include Armani, Bulgari, Chanel, Dolce & Gabbana, Persol, Prada, Ray-Ban, Scuderia Ferrari, Tiffany & Co., Valentino and Versace.
Graphic design is visual information. In this case, the explicit information is in the written words but there is another level of information that is conveyed through style: the typeface, the size, the position, the colour, the use of empty space, the relationship between the various elements, etc. These are the details that make design good or bad. A well designed window should make you want to go inside. I didn't go inside, I took my photo and walked away. From a brand that sells items which improve sight, I expect something worth seeing.
Next > "Hõt Dõg Water™"
< Previous "My tailor handled GDPR better than any big brand."
M O S T
R E C E N T

Counting the forces of Collaborative Creativity.
Creativity is more than just a process for producing new ideas and Collaborative Creativity is a methodology that recognises creativities many other effects and advantages.
Read this >

The importance of sharing.
I am now the author of a soon to be published business book, because sharing what we know and believe is important.
Read this >

The ambitions of Creative Commitment.
I witnessed the live presentation of the Creative Effectiveness ladder and oh, what a beautifully quixotic thing it is.
Read this >

Wait, there's more...
Pica index >